Chaplaincy
Our Chaplaincy service is available to everyone, no matter your diagnosis or your faith. We're here to listen, understand and give comfort during your visit to our services.
We'll do our best to encourage your spirituality through music, meditation, prayer or by being outside.
We also provide a spiritual care box on each of our mental health inpatient wards which is full of resources to help you with prayer and meditation.
At Prospect Park Hospital, we hold multi-faith services most Sundays at our (although some weeks we will hold a Christian service of Communion. We'll always let you know in advance when this will be happening). There is also a sanctuary which you can access 24 hours a day, seven days a week.
Our services is available 24 hours a day, seven days a week for patients, carers and staff of all faiths. You can request a visit from us by asking your ward staff.
We are here to support you no matter what your diagnosis is and will do our best to see you within one day of your request.
We'll also meet with a limited number of people who are using one of our services but living at home. Please be aware that you may have to wait longer to be seen.
If you're living at home but would like to use our chaplaincy service, please talk to your healthcare provider and, if appropriate, they will refer you to us.
During our first meeting, we'll give you a leaflet and explain how our service works. You can then choose whether or not to continue using our service.
West Berkshire Community Hospital 
London Road
Benham Hill
Thatcham
Berkshire
RG18 3AS
Rev. Chris Stott

  07940 843282
Wokingham Community Hospital
41 Barkham Road
Wokingham
Berkshire
RG41 2RE
Rev. Debbie Davison

  0118 979 2122
"Your visits have helped me find hope again when I thought I had none left."
"There's a lot of damnation in the Bible but what you offer is all about the love."
"These meetings (with the chaplain) have been the most useful thing in my recovery, because they have taken both my mental health and my spirituality seriously. I haven't had to leave one part of me behind to get what I need. It was very freeing to be able to talk fully and openly about my psychosis and my faith, and this integration wasn't coming from anywhere else."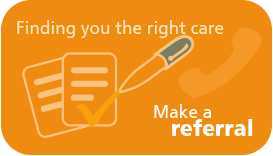 Leaflets to download