Neuropsychology
We provide a mental health assessment service if you're living with the effects of a brain injury, such as poor memory, and difficulty concentrating and communicating.
Whether your condition has been caused by something like a head injury from a car accident, alcohol or drug misuse, stroke, or a condition like Parkinson's we can look at your situation and offer treatment advice.
When you're referred to us, we'll arrange an assessment with you.
We'll look at things like your memory, how you communicate and your thinking skills, to help us understand your strengths and challenges.
Appointments usually take around two hours, but this depends on your situation.
You're welcome to come to this on your own, but we recommend bringing a relative or someone who lives with you. This is so they can talk about their view on your experience, and help you remember any details you may have forgotten.
Based on what we find in your assessment, we'll give you recommendations about your recovery such as coping techniques.
Our aim is to help you keep your independence and dignity, and so we'll guide you to the right services that can help you. This could be services at our hospital such as Stroke support, or charities and support groups we work with across Berkshire.  
Find information about our Stroke Early Supported Discharge Service
Access to our service is by appointment only.
Your GP or healthcare professional can refer you to us through our common point of entry referral pathway.
Unfortunately, we don't accept self referrals.
If you need help about how our service works, you can contact our administration team
Call 01189 296472
You can find our assessment centre at 25 Erleigh Rd, Reading. 
We're open from the following times:
| | | | | | | |
| --- | --- | --- | --- | --- | --- | --- |
| Monday    | Tuesday   | Wednesday | Thursday  | Friday    | Saturday | Sunday |
| 8:30am - 5pm | 8:30am - 5pm | 8:30am - 5pm | 8:30am - 5pm | 8:3am - 5pm | Closed | Closed |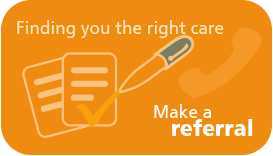 Resources Section