Science Day hosted at West Berkshire Community Hospital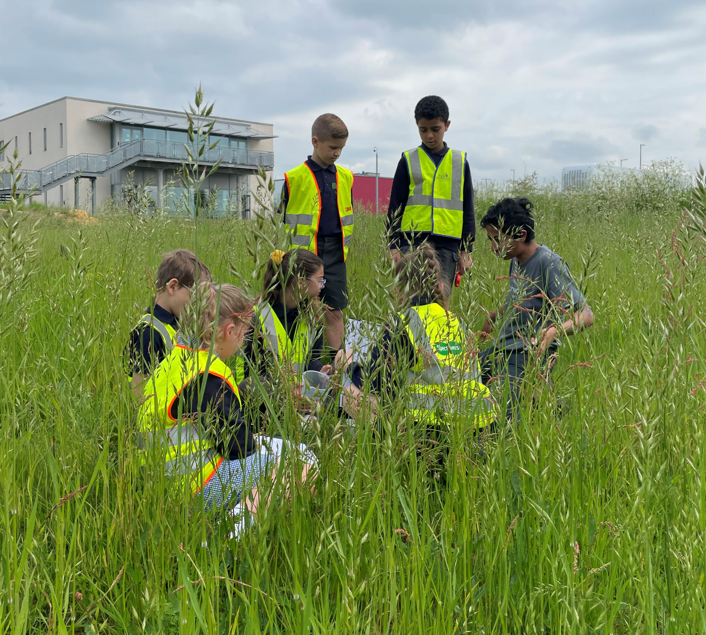 West Berkshire Community Hospital and charity Earthwatch Europe, joined forces on Friday, hosting a Science Day at the hospital's Tiny Forest.
With the help of school children and members from the local community, data was collected to support research into carbon capture, biodiversity, flood management and thermal comfort. This data will now be used to assess how the Tiny Forest impacts the environment.
Planted in 2021, the Tiny Forest is an urban forest up to 30 times denser than conventional tree planting and so maximises the benefits per square metre of land, while having low management requirements, once established. The key environmental benefits of a Tiny Forest include the absorption of between 450-600kg of carbon per year, flood risk mitigation, and noise reduction.
The Science Day was not only an opportunity to collect valuable data, but a way for members of the local community to engage with the research, learn about scientific methods used, and understand the benefits of having a Tiny Forest in the local area.
Organiser Christine Stockwell, Wellbeing Therapist at West Berkshire Community Hospital, said:
"The Tiny Forest not only supports the local wildlife and habitats, combat climate change and offers a range of educational tools, but it also brings a piece of natural beauty to the hospital. Our Tiny Forest is a valuable addition to our hospital, for patients and staff and as you can see today, the local community. As a wellbeing therapist, I spend a lot of time with patients in our therapy gardens which are hugely helpful with supporting the treatment of our patients. Spending time in nature is proven to help our mental health, and I hope that our Tiny Forest will soon be another space for patients to use."
 Ben Williams, Senior Project Manager for Tiny Forests at Earthwatch Europe said:
"A Tiny Forest brings the benefits of a forest right into the heart of urban spaces, and it is brilliant to see the one at West Berkshire Community Hospital thriving. Hosting Science Days allows us to bring communities together, and it was wonderful to see the local children engage in our data collection which is so important for our research."
Our Tiny Forest is one of the ways we are making Berkshire Healthcare NHS Foundation Trust more sustainable. Find out more about our Green Plan here. (opens in new window)