NHS England Medical Director visits our Integrated Hub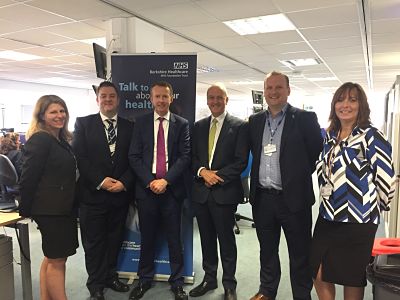 Sir Bruce Keogh, Medical Director at NHS England visited our health and social care Integrated Hub today as part of a series of local visits to deliver key note presentations on how the NHS needs to adapt to changing population needs.
Berkshire Healthcare is part of Berkshire West, an accountable care system (ACS) and exemplar area. As part of one of the first groups of designated ACS's we have agreed with national leaders to deliver fast track improvements set out in the NHS's Five Year Forward View. Joined up working and removing barriers across these partner organisations is key to their success. NHS national bodies will provide these areas with more freedom to make decisions over how the health system in their area operates.
Our Integrated Hub has already been working with social care partners since June 2016. Today was a great opportunity for our staff to explain to Sir Bruce how they are providing a single point of access to patients and the process they use on daily a basis to deliver great person centric care.
Berkshire West and its project leads are are: Julian Emms, Chief Executive Officer at Berkshire Healthcare, Luke March, Independent Chairman of the ACS, Steve McManus, Chief Executive Officer at Royal Berkshire NHS Foundation Trust, Cathy Winfield, ACS Leader and Chief Officer of the Berkshire West Clinical Commissioning Group.
Picture shows L-R: 
Iris Horsley – Business Support Manager for Integrated Hub
David Cahill – Berkshire Healthcare, Locality Director
Julian Emms – CEO, Berkshire Healthcare
Sir Brice Keogh - NHS England Medical Directors
John Daniels - Head of Urgent Access Services
Jo Inness - Operations Manager for Urgent Access Services