Our recruitment process
Value based recruitment
We have a strong set of values that we expect all of our staff to demonstrate in their day to day work. These are:
Caring for and about you is our top priority
Committed to providing good quality, safe services
Working together with you to develop innovative solutions
Your values based interview
During your interview, we'll ask you to share examples of situations where you've demonstrated a particular skill or how you've handled a specific issue. In some cases, we might also ask you to carry out a values based exercise. We'll then assess your strengths and development needs against a number of behavioural indicators to help us with our decision.
You should prepare by taking some time to understand our values and how you can demonstrate these during your interview. You can find an outline of the behaviours we expect to see in a successful applicant on all of our job descriptions.
You can also read some of our expected behaviours here:
Our values based exercises
During some of our interviews, we use a number of exercises to help us assess how you could meet our values. We'll let you know about any exercises in your interview confirmation letter.
All of our interviewing managers have been trained in how to assess applicants using values and behaviours. We'll always make an objective, fair and accurate assessment of your performance and use this to make our final decision.
If you have any questions, please contact the Recruitment team on 0118 2077 640.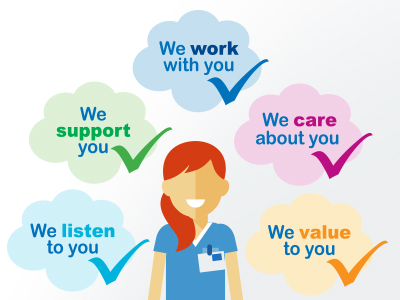 Working for us
We believe that we get the best our our staff when we listen to and work with them.