Learning and career development
We're committed to helping our staff achieve their best by providing opportunites for personal development, to learn new skills, and progress their careers.
Personal development
We have a strong culture of personal development and will support you to achieve your identified goals.
We ask all of our staff to create an annual Personal Development Plan (PDP) which identifies personal goals that will help them develop in their careers and improve their job satisfaction.
We offer coaching and mentoring, as well as a number of training, courses and conferences, to help staff achieve their goals. We also use PDP's to make sure that all our staff are up date with their qualifications and stay on top of innovations and developments in their fields.
All staff will have regular one-to-one's and appraisals to help monitor how they're developing and if there's anything else we can do to help.
Training courses and conferences
We offer a number of in house and external training courses to all our staff. These can be accessed in different ways, such as face-to-face, e-learning, over Skype, through webinars, supervision and accredited courses. Some are statutory and therefore compulsory, others are optional.
We also offer management and leadership development through our Excellent Manager, Compassionate Leadership, Senior Clinical Leadership and Talent Management programmes.
We can give financial support for our staff to attend external courses and conferences if they will help develop their career progression.
You can search our existing courses using SLATE
Continuing education
We encourage our staff to continue with their education, from taking study days right through to Masters programmes.
We work closely with a number of Higher Education Institutions in the local area which can help you achieve your personal goals.
Financial support?
Library services
Our library is stocked with a range of medical and Bibliotherapy books to help our staff, staff from other trusts, and local students learn and develop. We can provide access to the latest research publications, articles, journals, books and databases to help keep staff up to date with the latest developments in their fields.
Find out more about our library on the Healthcare Libraries website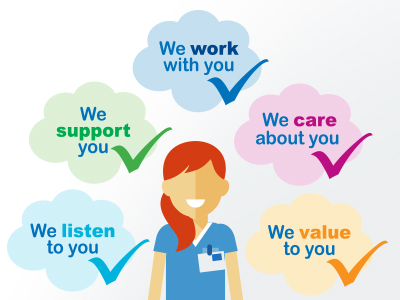 Working for us
We believe that we get the best our our staff when we listen to and work with them.