Applying for a job
You can see all of our current vacancies here

If you're applying for a job, please submit your application as early as possible. If we get a lot of interest in a job, we might stop accepting applications before the listed deadline.
How to apply
To apply for one of our jobs, you'll need to complete an online application form.
We'd like you to pay special attention to the following three important parts of the form:
Your full employment and training history, explaining any gaps you might have
Complete reference information for the last three years
Your personal statement to demonstrate how you meet all the essential criteria outlined in the personal specification
You can find more information and guidance on completing this at NHS Jobs.
Attending an interview
If you're invited to an interview, we'll send you a confirmation letter with all the information you need. Please make sure you're prepared for you interview and have thought about any question you might be asked.
Find out about our value based interviews and how you can prepare
We'll also provide you with a list of documents you'll need to bring along to prove the following:
Your identity
Your eligibility to work in the UK
Your professional registration and qualifications
If your interview is successful and all the documents have been provided, we'll make you a conditional offer while our recruitment team carry out the following employment checks:
Identity checks
Right to work checks
Professional registration and qualification checks
Employment history and reference checks
Criminal record and barring checks
Work health assessments
Once all the checks are successfully complete, we'll make you a final offer for the position.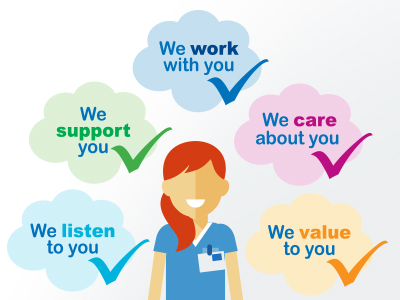 Working for us
We believe that we get the best our our staff when we listen to and work with them.