Support with COVID-19 (Coronavirus)
You can find the latest information about Coronavirus COVID-19 and what you need to if you/a member of your household are experiencing symptoms at:
If you're showing symptoms of COVID-19, please do not come to our hospitals or clinics. Instead, contact your service to inform them and rearrange your appointment.
If you're expecting a home visit from us, please contact us if you or anyone in your home are showing symptoms of COVID-19.
Depending on your needs, we may be able to offer an alternative such as online consultations/Skype chats, or a call if you're unable to attend an appointment.
You can find advice if you're looking after children or young people, from our CYPF website.
The Royal College of Paediatrics and Child Health, along with Healthier Together, have put together this useful infographic around the symptoms of coronavirus and children: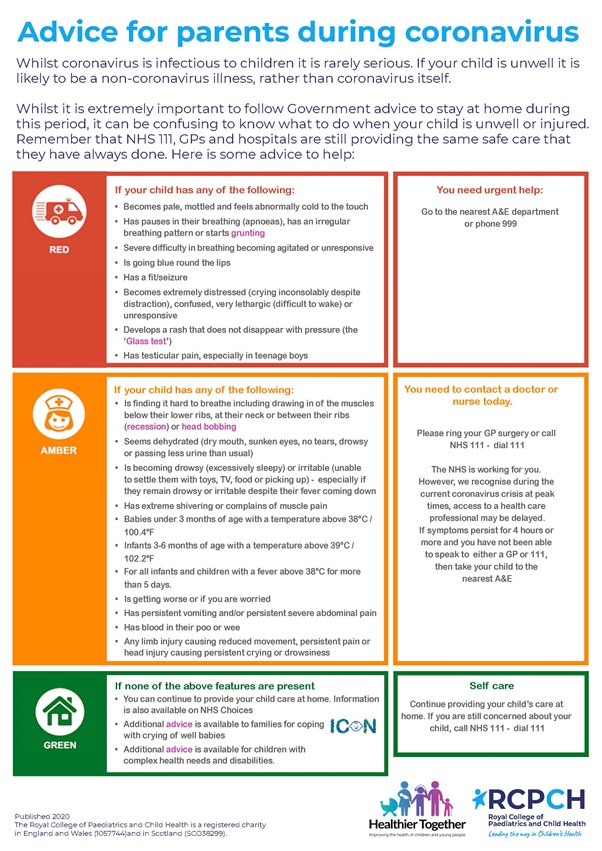 As you find yourself recovering from COVID-19 you may still be coming to terms with the impact the virus has had on both your body and mind. 
This website helps you to understand what has happened, what you might expect as part of your recovery, and what you can do to help yourself recover and look after your wellbeing.
This website has been created to help you with your recovery after you've been discharged from hospital following COVID-19 treatment.
The website can also be used if you've remained at home during treatment and recovery.
The information is to be used as a guide only. It shouldn't replace any individual advice you may have received on discharge from hospital. If you have any concerns about ongoing or worsening symptoms, please contact NHS 111.
Call NHS 111
This page was updated 5 August 2021
Regular testing can help us track the spread of COVID-19. 
There are different tests you can get to check if you have coronavirus (COVID-19):
Polymerase chain reaction (PCR) tests – these are mainly for people with symptoms, they're sent to a lab to be checked
Rapid Lateral Flow (LF) Tests – only for people who do not have symptoms, they give a quick result using a device similar to a pregnancy test
Both tests are free.
Visit the NHS website for more information about COVID-19 testing 
If you have COVID-19 symptoms
Get a PCR test as soon as possible if you have any of these symptoms, even if mild:
a high temperature
a new, continuous cough
a loss or change to your sense of smell or taste
You and anyone you live with should stay at home until you get your test result. Only leave your home to have a test. 
Regular tests if you do not have symptoms
Anyone can now get regular rapid lateral flow tests without having symptoms.
About 1 in 3 people with COVID-19 do not have symptoms but can still infect others. You should do a rapid test twice a week (every 3 to 4 days) to check if you have the virus.
If people test positive and self-isolate, it helps stop the virus spreading.
Even if you're vaccinated, there's still a chance you can pass COVID-19 on, so you should keep getting tested regularly.
Visit the NHS website to order your rapid COVID-19 test 
Other reasons to get tested
There are other situations when getting tested would be needed:
If you're self-isolating because you've been in close contact with someone who's tested positive
Getting ready to travel to or from another country
If you're taking part in surge testing
If you're a care home resident or staff member